Unlimited HubSpot tasks for a fixed monthly fee…
No contract. Cancel any time. 14-Day Risk Free Guarantee.
Set Up | Scale Up | Integrate
For NEW and Existing HubSpot users Globally
Book a Demo to see why over 1000 Companies choose HubSnacks to set up, Scale Up and Integrate their HubSpot Portals. Transparent, professional assistance!
HubSpot Accelerated Onboarding
Ideal for brand new HubSpot users who want to avoid pitfalls. All Hubs. All features. All experts.
150+ Ready-to-go Template Library
Choose from a selection of HubSpot template designs to speed up your delivery.
Pre-tested Automation Workflows
Get what you need done better faster and cheaper with our team of experts.
How to squeeze HubSpot!
To "grow better with HubSpot", it has to be set up right and used right!
CUSTOMERS
Join these companies and grow better .... faster






Schedule Your LIVE 1:1 Demo
See how to Squeeze all the value from HubSpot whilst avoiding the frustration of working with freelancers and the cost of agencies.
Live on the demo, you'll see:
Exactly how your immediate needs get delivered

How we Unlock HubSpot's Full Potential for 500+ companies

if you've hit the roadblock that we see 4 out of 5 users get stuck in when setting up HubSpot!
We struggled for Hubspot resources and knowhow and Hubsnacks have been a lifeline – stepping in when our other agencies were let go. They help with everything from workflows, chatflows and other on-platform stuff and have also been instrumental in our website development which is hosted on Hubspot. Thank you to the team!
Stefano Iacono
Head of Digital at Modulr
These guys are used by folks who really want to get the best ROI possible. The squeeze as much use from HubSpot as possible – truly a pleasure to work with and they will take your HubSpot investment (which lets face it, is steep) and get you the best ROI in the most efficient and easy way possible. USE THEM !!!
Marx E. Acosta-Rubio
CEO of Callmarx.com
HubSnacks have been invaluable to us. They are like an extension of our marketing team, supporting us with technical as well as design tasks. They have freed up my time immensely, allowing me to focus on digital strategy, planning and execution. And the quality of the work is fantastic – they really understand our briefs, objectives and desired outcomes and deliver great results every time. I would highly recommend anyone using HubSpot to work with HubSnacks.
Catherine Filmer
Digital Marketing of Salmon
Salmon is part of Wunderman Commerce Group (UK)
SUBMIT YOUR TASK
How It Works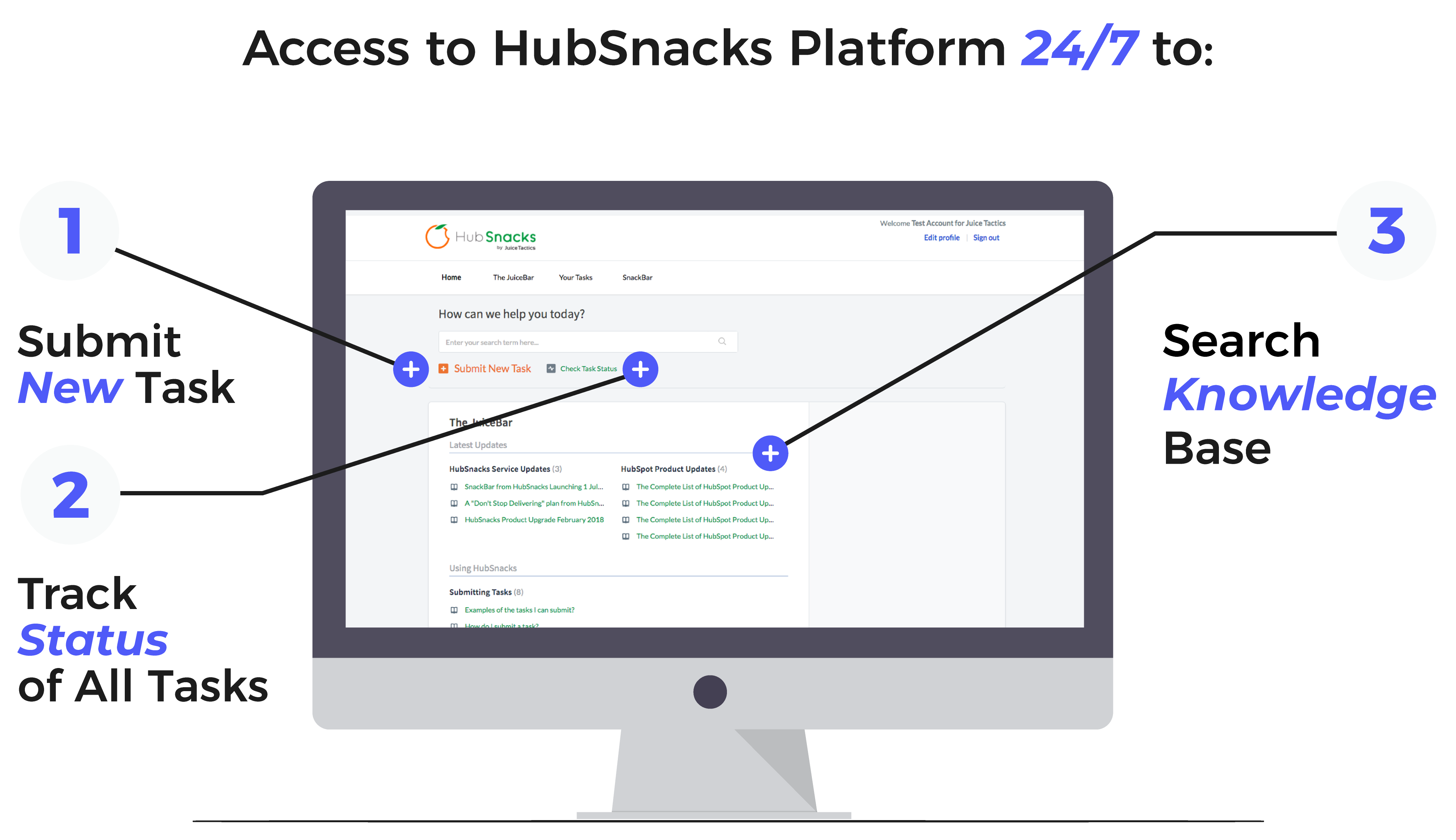 You submit a task
Request as many HubSpot tasks as you'd like and our in-house experts will validate each one.
You see your progress
Login to your HubSnacks Portal to see progress on your tasks and manage your task queue every day.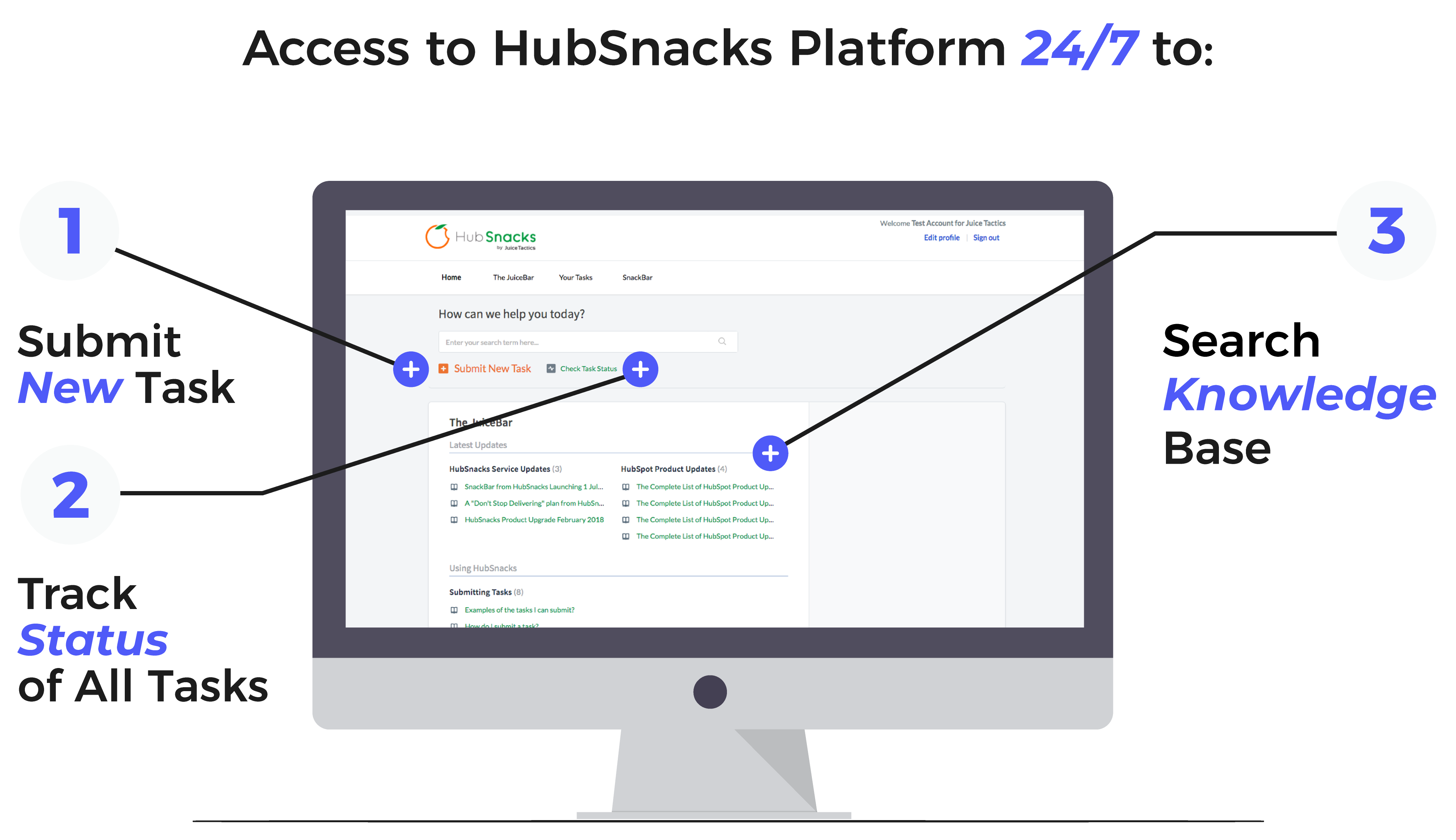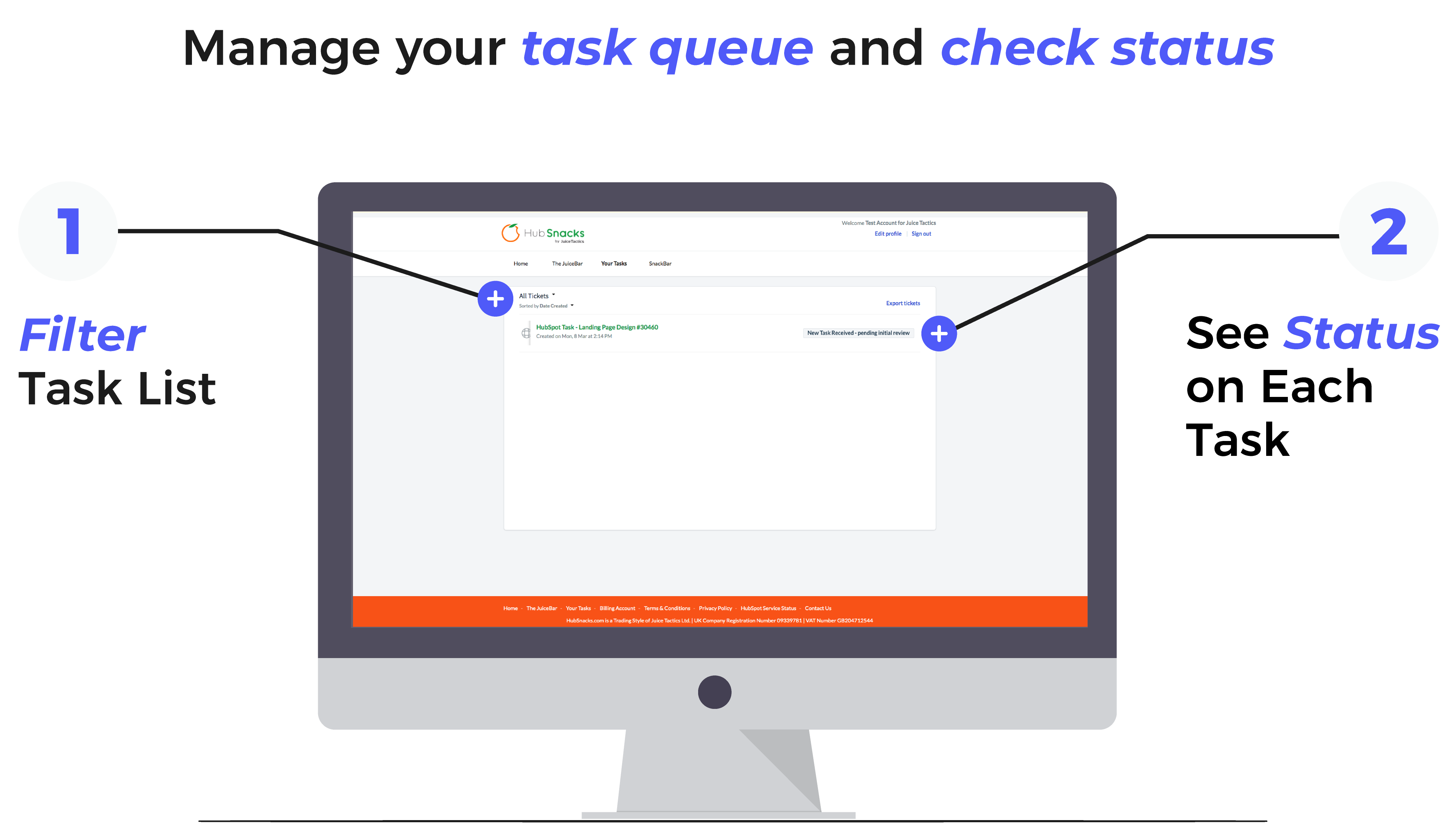 You get what you asked for
Your task is delivered to you on time, for you to close and move on to the next, or request revisions.
We suggest your next task
Not sure what you should do next? Don't worry - we will guide you to your next high impact Hubspot task.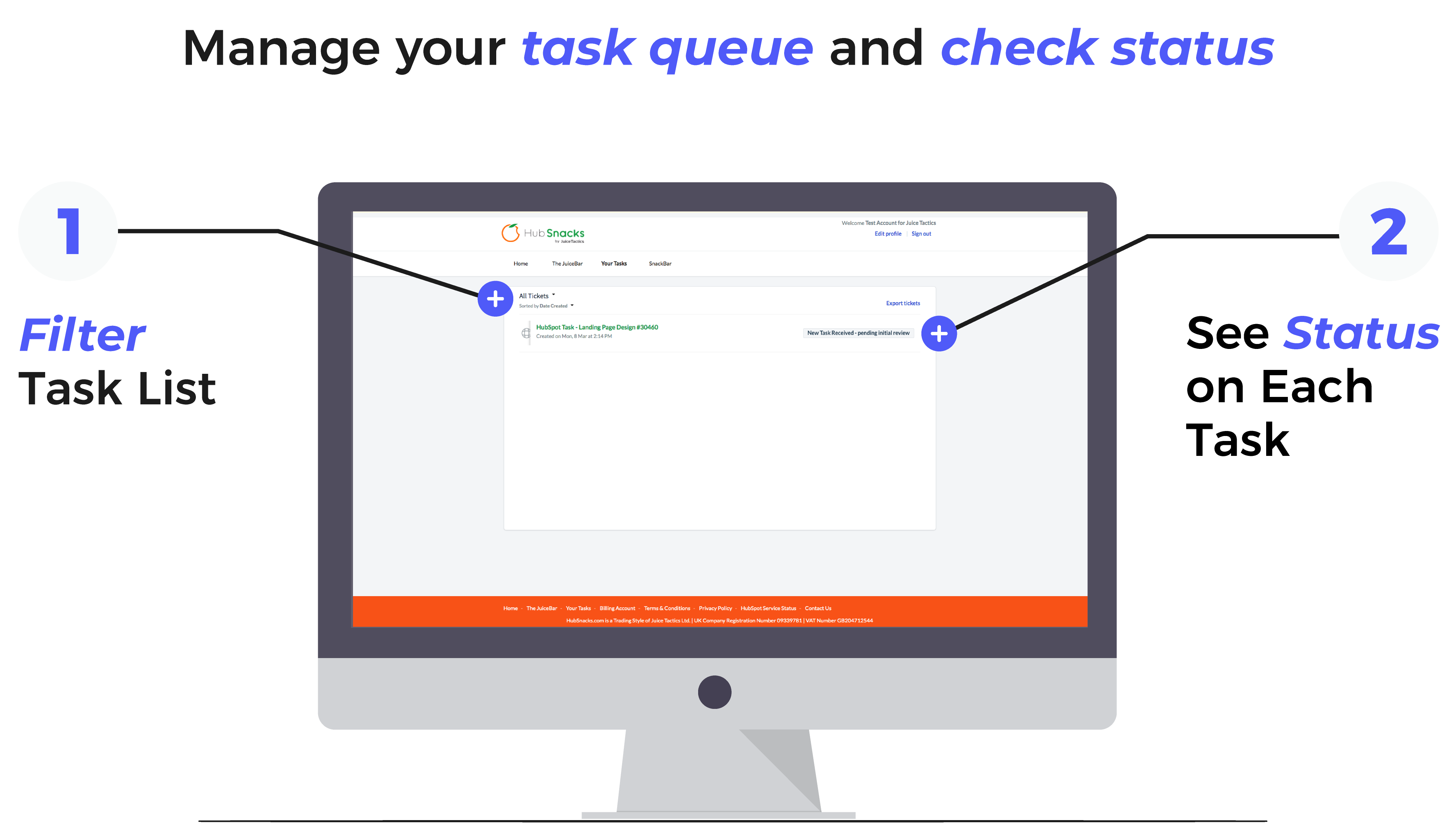 DON'T MISS A FEATURE
Examples of what you can do using HubSnacks...
HubSpot only works for you when it's set up right, and you're using all its features...
Marketing Onboarding
Get onboarded to Marketing Hub and start generating qualified leads
Sales Onboarding
Get onboarded to Sales Hub and start turning leads into customers.
Service Hub Onboarding
Get onboarded to Service Hub and start converting customers into promoters.
Accelerated Onboarding
Customize your Accelerated Onboarding by selecting the Hubs you want to focus on.
Re-Onboarding
Get Re-Onboarded to your HubSpot Portal and see where the gaps are preventing you from growing.
Custom API Integrations
Keep revenue and operations flowing across all your software stack by automating data flows, keeping HubSpot as the reliable single source of truth
CMS Templates
Choose from over 150+ fully optimized CMS templates styled to your requirements
Blog Templates
Select Blog Single and Blog Listing templates that are proven to convert.
Email Templates
Launch email marketing campaigns with fully optimized email templates.
Automation workflows
Use tried and tested workflows to automate your business processes.
Reporting Dashboards
Track your progress and ROI with recommended and custom Reporting Dashboards.
Lead Scoring
Track and sort your leads with recommended or custom automation.
HUBSNACKS EXCLUSIVES
Ready-to-go Template Library
Self-editable & Unbreakable
View HubSpot Design Prototypes that can be browsed online to find the Template you want. Get the built template in your HubSpot Portal within 3 working days or less.
Self-editable & Unbreakable
View HubSpot Design Prototypes that can be browsed online to find the Template you want. Get the built template in your HubSpot Portal within 3 working days or less.
Self-editable & Unbreakable
View HubSpot Design Prototypes that can be browsed online to find the Template you want. Get the built template in your HubSpot Portal within 3 working days or less.
Nr 1 in the World
Out of a total 5,843 Solutions Partners in the official HubSpot Partner Directory, by choosing the Award-winning HubSnacks Service, you'll be working with the TOP RANKED Partner in the Lower Priced Category - anywhere in the world!
QUALITY AT SPEED
Speed without compromising Quality
Choose to work with a top tier "Elite" HubSpot Solutions Provider, ranked Nr 1 in the world at the low-priced range.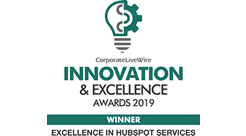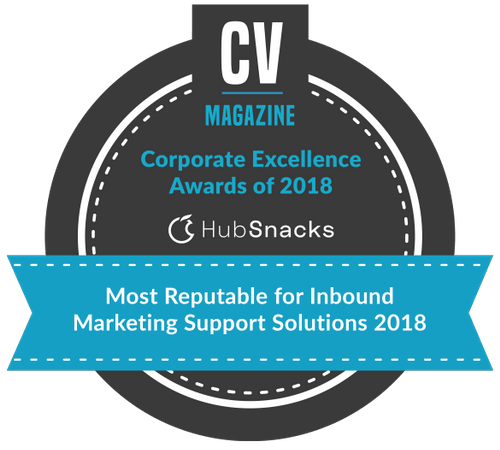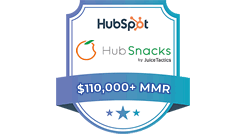 We respect HubSpot's Brand Guidelines. So here's a disclaimer so you're super-clear who you're working with… HubSnacks is an independently developed service offering by Juice Tactics and has not been endorsed or verified by HubSpot, Inc. HubSpot, Inc. shall have no liability whatsoever in respect of the HubSnacks service offered by Juice Tactics.


GET STARTED
Choose your package today
See Accelerated Onboarding Pricing and what you will get.
See HubSnacks Unlimited Pricing and what you can do